Products
From Ship to stall
We have some of the best fishing grounds in the world. Peterhead and Fraserburgh have the best landings of Hake,  Halibut, Haddock and Plaice Scarborough for Cod The South Coast of England for the prime fish such as Lemon sole, Dover Sole, Sea Bass, Red Mullet, Squid, Brill and Turbot. Wild Salmon and Seatrout in the summer.
Our own Coast line offers much in the summer -Sea Bass from Liverpool Bay and Menai. Plaice and skate from the Dee estuary.
Our shellfish is of the highest quality.  Hand-dived Scallops straight out of the shell from Tarbat on the banks of Loch Fyne. Crabs- live, in the shell and dressed from Filey in Yorkshire. Wild lobsters from Cornwall and the East coast of England. Langoustines from Mallaig. Oysters and clams from Mersea near Colchester. Live Mussels from the Menai straights. The vast majority of our fish is sourced from British waters, however, we do import  Sashimi grade Tuna and swordfish from Sri Lanka.
Loch Duart Salmon
We source our farmed salmon from Loch Duart Ltd. Loch Duart's approach to salmon farming follows natural processes as far as possible- low density rearing, minimal intervention and respect for the environment, to provide Scottish salmon of outstanding quality.
Small independent Scottish Salmon Farm.
Winner of the first 'Taste of Britain' Award for Best Food.
Freedom Food approved fish welfare programme.
Room to grow. 98.5% water, 1.5% fish.
Unique one year fallowing system
No use of anti - foulants or antibiotics.
The feed is as close to the natural diet as possible, is taken from sustainable sources, and is GM - free.
Deli
We stock a wide variety of products to accompany our fish and meat products. Whether making a paella or a sauce for a venison joint.  We are official stockists of Charles Macleod Stornaway Black Puddings.    
Wild Venison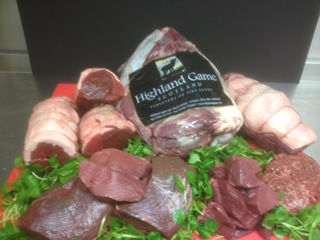 Sourced from the Highlands of Scotland we butcher our venison in the French style which involves removing the connective tissue from the muscle. This ensures the meat doesn't need extensive marinating to become tender. All cuts are available:- steaks, diced, haunch, saddle and minced.

Dukeshill Ham
Dukeshill was founded over twenty years ago, with a vision of producing the very best hams, cured the "old fashioned" way (where flavour and texture are more important than speed or yield), for a discerning public who were fed up by the bland offerings of the supermarkets. In 2003 they were awarded the ultimate accolade – a Royal Warrant to supply hams to The Queen. Please follow the link for more information. http://www.dukeshillham.co.uk/content.asp?pageID=30001
Smoked Wild Sea trout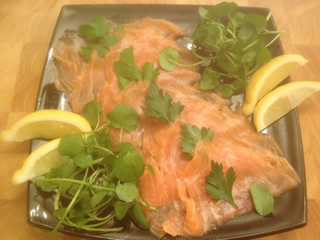 Using our own Cure and smoked in South Wirral we have sides and smaller packs available. Simply serve at room temperature with lemon and a twist of black pepper. Available in summertime.



Three Bird Roast
A Ward's institution. These are prepared on the premises and make a fantastic alternative to the traditional bird.
The Goose Roast comprises boneless pheasant and Guinea Fowl stuffed with Kelly Bronze Turkey and apple sausage meat
Smoked Fish
These products can essentially be put into two categories.
Our cold smoked white fish is cured in Peterhead using only the best fish. Our Natural Smoked haddock (no colouring) is one of the best selling products we have. This only needs simmering for a couple of minutes and is perfect on its own or in a pie or risotto.
Kippers are a great source of omega 3. We have Manx kippers and Craster Kippers. Craster is a small town in Northumberland and their famous smokehouse produces in our opinion the finest kippers.
We've been selling Smoked Scotish Salmon from Loch Fyne for over 20 years. The consistency of quality is hard to beat. The Classic cure comes in a variety of packs sizes along with the stronger cure 'Braden Orach'.